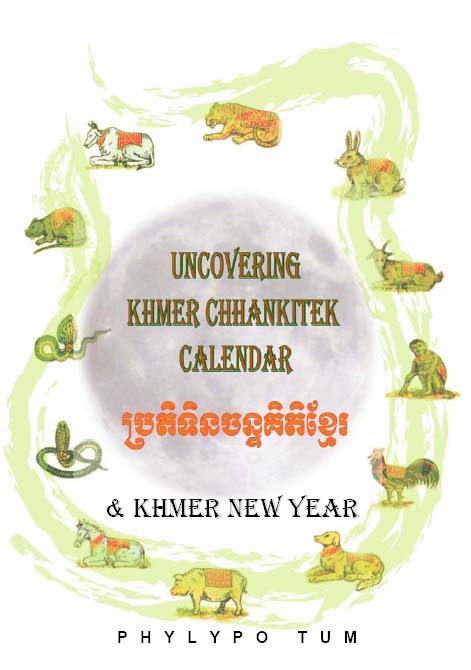 Cambodians use two types of calendars: the international calendar for civil purposes and the traditional calendar for religious purposes. Although called Chhankitek, which means lunar calendar, Khmer traditional calendar is a lunisolar calendar similar to some of the Hindu calendars and the Chinese calendar.
The goal of this research is to create a create a computer program that can display the Khmer calendar for different years. With the recently published Khmer books on Khmer calendar by Mr. Kim Soeun Roath (ksroath@yahoo.com) (ប្រតិទិនសុរិយគតិ-ចន្ទគតិ ពីគ.ស១៩០០ ដល់ គ.ស១៩៩៩ និង គ.ស២០០០ ដល់ គ.ស២០៩៩ ដោយ លោក រាត់ គឹមសឿន), the mechanics of the Khmer calendar system can be unveiled. The book "អត្តាឡើងស័កនិងមហាសង្ក្រាន្ត" by the same author also shows the calculation of the Khmer new year songkran.
Calendar Tools
As part of the development, the tools section has the monthly calendar that can display the Khmer lunar calendar from 1800 to 3000 A.D.
Khmer New Year
Khmer New Year is another big topic on this site. It reveals both the calendar aspect and the history of Cambodia. More importantly there the cultural aspect are also captured in the Khmer traditional games and other activities.
Any suggestions or comments, please email me: phylypo(at)yahoo.com.